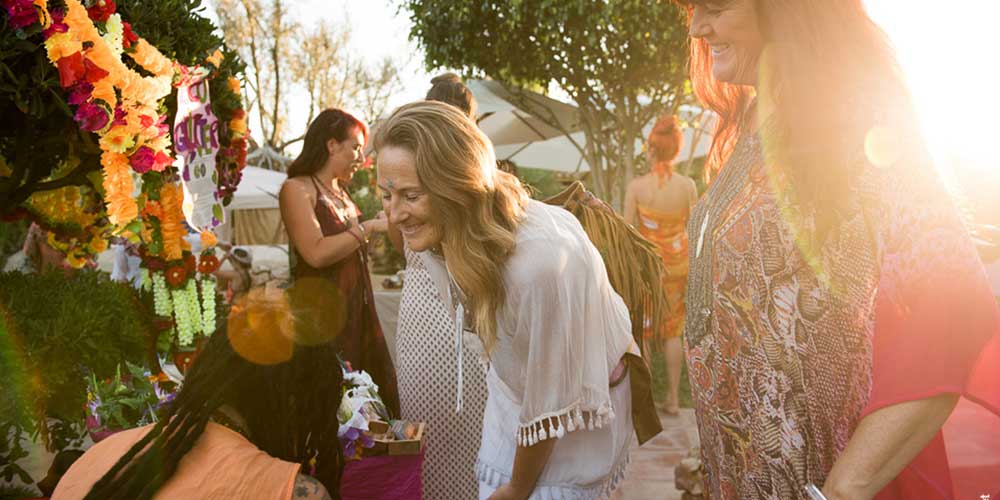 Ibiza's Cosmic Spirit Rises in Autumn
We're delighted to introduce the first blog post from our very own Lisa Chadderton, Creative Account Director of the recently opened About Time Creative Ibiza office. Lisa will be reporting regularly on what's trending on the White Isle as well as talking about the work we are doing in the creative industry there. In this, her first article, she talks about the arrival of Autumn on the island and with it a succession of vibration-raising events that help her creativity to flow.
IBIZA'S COSMIC SPIRIT RISES IN AUTUMN
Autumn has arrived on Ibiza and I have to say I am feeling rather more relaxed than I have been for some time. As the heat and madness of the 2017 summer season dies down and the last remaining clubs close their doors, a new energy starts to rise on the island, catalysed by events like the Ibiza Spirit Festival at Atzaro, Cosmic Pineapple at Pikes and the forthcoming Energy Week 2017.
It's no great secret anymore that, aside to it's reputation as being a magnet for hedonists, our little Balearic rock in the Med also attracts, and is a home for, a huge amount of wellness seekers. In fact, neither of these things are new phenomena on Ibiza. Due to it's strategic location on the old merchant ship trade routes, people have been stopping off at the island to rave, relax and rejuvenate for centuries. However, in recent years the health and wellbeing industry in particular has seen a massive increase on Ibiza, with an explosion in yoga retreats, conscious events and holistic therapists being available.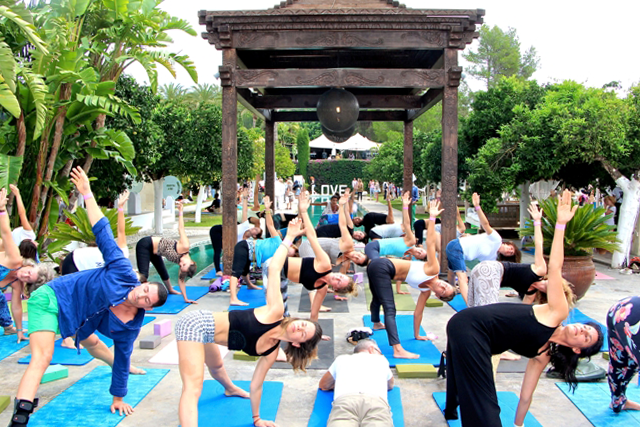 THE IBIZA SPIRIT FESTIVAL AT ATZARO
I recently enjoyed taking part in the Ibiza Spirit Festival, a huge bi-annual event that paints a wonderful portrait of this facet of the island. The most recent one took place on Sunday 1st October at the beautiful Agroturismo Atzaro and it offered a wide range of classes, therapies, workshops and circles for the general public to take part in. There was also a fantastic market, children's area and an uplifting programme of live music that set the perfect tone.
The Spirit Festival was absolutely packed all day with more than a thousand people passing through the gates, each contributing a 10 euro donation as they entered, which went to the APNEEF children's charity , based on the island. The event was bursting with beautiful Ibiza souls and I got a chance to catch up with many people I hadn't seen all summer due to our busy work schedules. It was a perfect way to reconnect with myself, my community and the island – ready to face the shifting season with a smile on my face. I feel these type of events are vital at this time of year for the rebalancing of the whole island and it's inhabitants. For me personally this rebalancing allows me to focus more clearly on my Winter projects by unblocking any residual summer stress and allowing that all important creativity to flow.
"The Ibiza Spirit Festival is a great opportunity for us to come together twice a year in the spirit of love and celebration," said Sabina Brownstein, one of the organisers of the event.
"The festival on October 1, was the busiest and best ever with all of the classes and workshops filled, and the Spirit of Ibiza all around us. Each year, in May and in October, we create an opportunity for the wonderful people of Ibiza to 'spread the love'. The beauty of Atzaro blended with the joyful ambiance opens people's hearts and minds to new ways of thinking and being." I couldn't agree more and I felt the event had set me up brilliantly for the new week, new month and new season ahead. However, having been working at Ibiza Spirit Festival giving readings, I hadn't had the opportunity to soak up any of the amazing treatments or classes on offer for myself. I was in luck though as later that same week, the forthcoming Cosmic Pineapple event promised me the chance to do just that.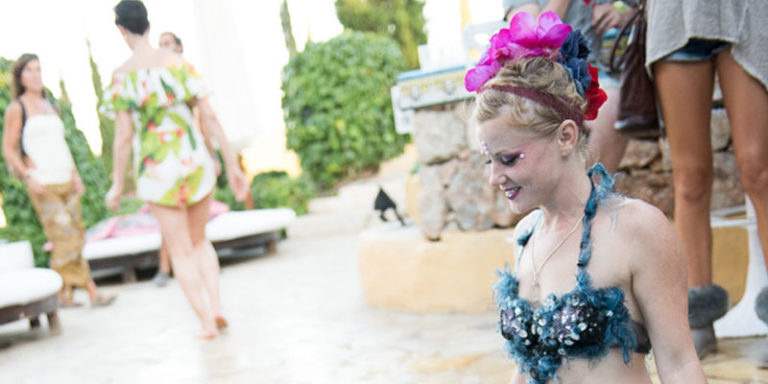 PIKES HOTEL GETS COSMIC
The location for this cosmic gathering on 5th October, was none other than the legendary Pikes Hotel, a place that has, at times, been my second home on the island . I arrived at Pikes, feeling resplendent in my favourite Unicorn top and blue feathers in my hair, and was instantly imprinted with a matching splodge of blue glitter in the centre of my head, daubed on by the wonderful Carli Su Su. Never one to shy away from a glitter shower, I have to confess I have never really given much thought to what it was made of. Susu soon set me straight, explaining how standard glitter is made from flattened plastic microbeads, tiny toxic particles that don't break down and end up in our waterways. Susu's Eco Glitter , however, comes from sustainably grown eucalyptus trees from where it is made into a biodegradable film which is later metabolized by micro-organisms and disappears back into the earth. She advised me that it was therefore safe to spread my glitter like love, generously and everywhere! It was a great little mantra that I walked into the party with.
As I made my way up to the renowned Pikes pool area I was greeted by the sight of three stunning mermaids in the pool, courtesy of the event styling company, The Minx FX. They were splashing around to the sounds of Mark Broadbent and Andrew Livesey AKA The Brothers Grim who were playing some suitably laid-back, early evening deep grooves, setting the perfect mood . I sat down to take it all in and was blown away by how many island faces were there, many of the same faces I had seen at the Spirit Festival, and the phrase 'twice in one week' seemed to be bouncing around.
Having exchanged some happy end of season conversations, I set off for an exploration and was delighted to see every nook and cranny of this stunning venue being used to the fullest. I'm really pleased that Pikes is leading the way in embracing more conscious events and it seems like the perfect place to embody this spirit of the island. From the outside world looking in, it can seem like conflicting ideologies – yoga and a healthy lifestyle versus party-all-night hedonism. But the Cosmic Pineapple event brings it all together harmoniously, after all, it's about celebrating life.

THE HEALING POWER OF SOUND
After a wander around the stalls on the Tennis Courts, I found myself being drawn to the sound healing space in the gardens, where a gorgeous chap named Paulo was working his magic using some beautiful crystal singing bowls. I've had some pretty phenomenal experiences with these in the past, so I decided to go and sit in front of him. As is often the case for me, it was only when I actually sat down, took a deep breath and closed my eyes that I realised how much I needed the session. I was carrying a lot of tension and before I knew it, tears were welling up in my eyes and I let them go freely The experience was incredible and Paulo moved around me using different instruments including gongs and flutes, I sensed that he was a deeply intuitive Shaman – picking up on, and clearing, emotional blockages in my energy field.
I came around from the sound bath feeling much more grounded and in tune with my emotions. Now fully immersed in the action, I looked to my right and saw a space had just come free with Gini Scott , an amazing reflexologist based all year round on Ibiza with her practice Pure Balance Reflexology http://www.purebalancereflexology.com . I took the opportunity to hop onto her bed and chatted with her about the importance of these type of events on the island as well as where we were on our own personal journeys.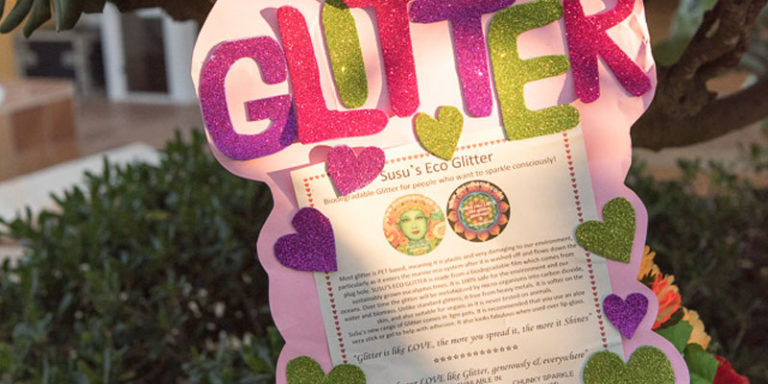 "I love getting involved in conscious events and they are happening more and more on the island," said Gini. "It's such a great way to work alongside the other healers and see what they do, and to connect with island residents and share my passion. There is always the most amazing atmosphere with lots of happy people and good vibes, I always come away feeling uplifted."
My relaxation really deepened during the reflexology treatment and it's not surprising. After all, I'm lying under the stars and the full moon, wrapped up in a blanket having my feet rubbed to music that sounds as though it's been designed for this exact moment. In fact, there's been a noticeable shift in the soundscape. Suddenly, everything feels in alignment and I find myself feeling all warm and fuzzy with love and gratitude. It's difficult for me to explain in words the sound that I'm hearing and I make a mental note to find out who the DJ is before allowing myself to slip off into another dimension that the sound seems to be calling me into!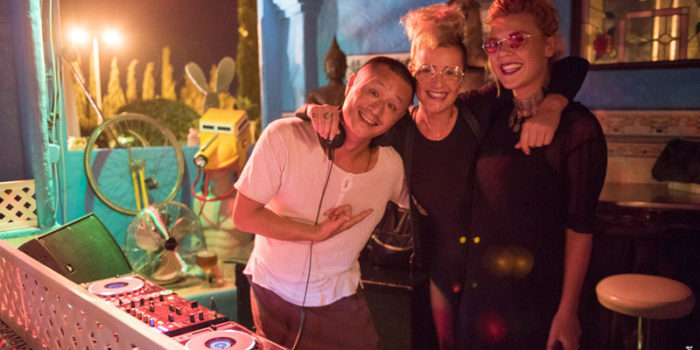 Later on I find out the DJ in question had been Cafe Del Mar's Ken Fan , a man who clearly takes his music and it's power very seriously. I'm intrigued when he explains to me that he researches his producers very carefully, only playing tracks tuned to the Solfeggio frequencies, a subject I'm fascinated with. The Solfeggio frequencies are an ancient scale of tones, thought to have been used in sacred music, that correspond with sacred geometry and the natural laws of the Universe. Slowly but surely, modern producers are rediscovering and retuning their music to these frequencies, with profound effects on human consciousness and healing. I can only speak from my own experience here, which is that everytime I come into connection with these tones I feel a deep sense of contentment, relaxation and alignment. What is also beneficial for me is that it is often in these states of being that I have the most creative inspiration, with ideas flowing to me effortlessly. I feel that this is the meaning of the phrase 'divine inspiration'. https://attunedvibrations.com/solfeggio/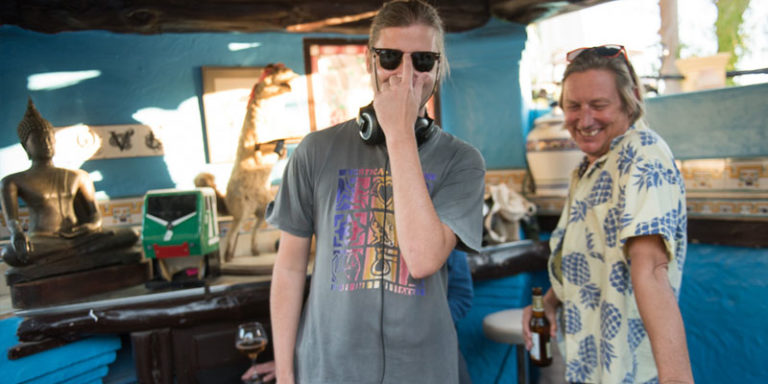 Of course the reflexology was an important part of all this too. This holistic therapy follows the principle that the body is mapped on the ears, hands and feet. During the treatment Gini applied pressure to my feet using her fingers and thumbs, activating nerve endings that lie on specific reflex points. This pressure sends neurological messages to the brain, which then relays that message to the area of the body that is ill, stressed or disturbed. The body's own healing mechanisms are then activated in the required area, enabling healing to occur naturally. I felt pain and 'crunchy bits', as Gini calls them, in certain parts of my feet and on discussion with Gini after the treatment, I found out that these points corresponded with the exact places in my body where I had recently been ill. It reminded me of the accuracy and power of this practice and I decided I would continue visiting Gini for treatments to speed up my body's natural healing ability.
I was feeling amazing by this point and felt I'd got just what I needed. So even though the party side of the event was just about to really get started, I decided it was time to go home and rest. It was difficult to get out of the door however, because of getting involved in so many wonderful, deep conversations with amazing people! I left with a huge smile on my face, reflecting on what interesting times we live in and how lucky I was to live on an island that was leading the way, as it always has, by carrying forward a bright torch of hope.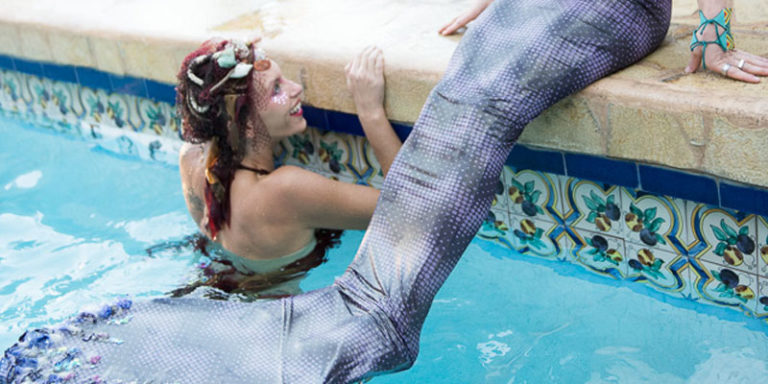 THE CREATIVE IMPACT
The impact such events have on me is always evident and on every level too. Whilst the cynics may label these practices as airy fairy, I trust in the best evidence I can be sure of, which is my own direct experience. I bounced into The Hub the following day, full of energy, fresh ideas, insight and creativity. I'm ready to embrace this new season and all the exciting work that comes with it.
Let's #getcreative #Ibiza!