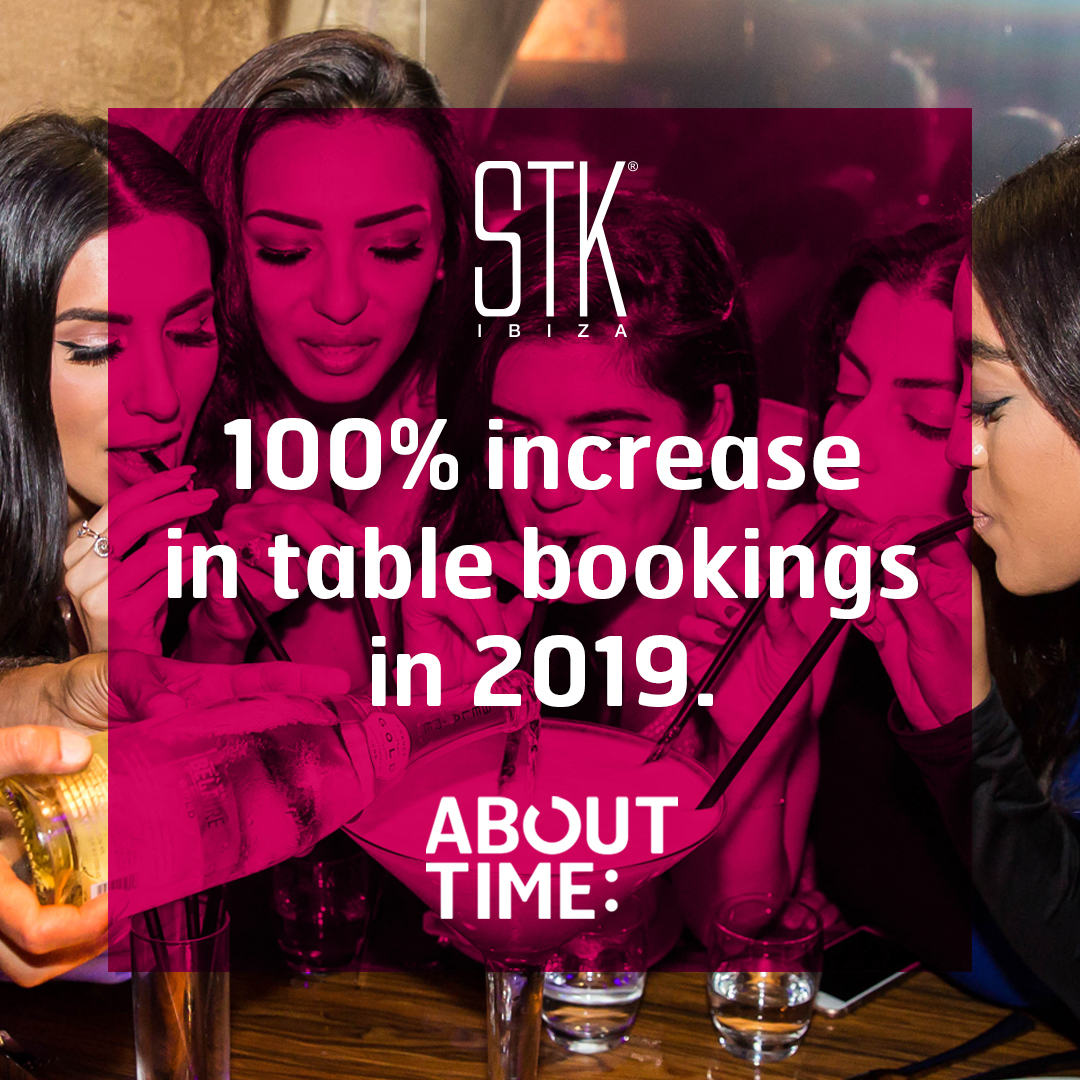 A Recipe for Digital Marketing Success!
How effective Social Media and Influencer Management have helped to drive a 100% increase in bookings at STK, Ibiza.
Our clients, STK Ibiza, are smashing it so far in 2019.  The high energy, upscale restaurant and entertainment venue has seen a
100% increase in table bookings

so far this year and a reach of around

100 million accounts on Instagram

through working with 100 influencers.   
Lisa Chadderton gets the lowdown from our Digital Marketing Manager, Rosh McAteer, about the work that goes on behind the scenes to help deliver such tasty results.  Rosh shares her social media insights into influencer marketing, Instagram stories and the importance of effective planning as some of the key ingredients for success.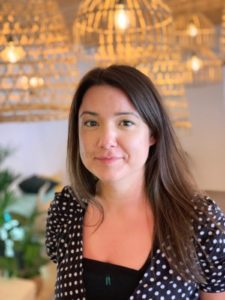 STK Ibiza seems to have got off to a flying start in 2019. What has been the highlight of the season so far for you?
The Grand Opening in May was the highlight for me so far, it was absolutely amazing.  The whole STK team really brought their A game. Pretty much every member of staff was there last year too, so operationally, everyone really knows what they are doing and service ran so smoothly, it was a pleasure to be a part of it.  We had some high profile international DJs like Danny Howard in attendance and some famous faces from TV including Love Island presenter Caroline Flack.
What else is happening this year at STK Ibiza?
Summer 2019 will see STK Ibiza collaborate with famous international and local artists, DJs, celebrities and events promoters including weekly events with Candypants, Champagne Charlies and Disco Bandits with Manuel Moore and Micah the Violinist. We've also got pop-up events from SIN, Nuage, Sintillate and MOKO Party.   
Doris's Dinner Party is a new ladies' night on Tuesdays.  Organised by Candypants, it features a €75 menu including cocktails.  We also recently launched the Piano Bar up on the terrace with the amazing Ruby Murray performing every night.  The reviews have been phenomenal for that.
Tell us a little about your role as the Account Manager/DMM for this brand and the services our agency delivers for this client?
We manage all aspects of the digital marketing and online brand management strategy for STK Ibiza.  In terms of my day to day tasks this can include updating the website, managing online review platforms, managing paid advertising campaigns on Google or social channels, taking care of influencers, creating organic content for social media, communicating with journalists, coordinating content creation from videographers/photographers and managing the production of artwork assets with our in house team.  It's a round the clock job that never stops, but I love it.
What results are you most proud of to date this year?
Well the fact that STK Ibiza has had an increase in table bookings of 100% in the early part of the season is just brilliant, boosting everyone's confidence about the season ahead.  In particular we've focussed our efforts on targeted google ads and working with social media influencers. Already this year, STK Ibiza has reached approximately 100 million Instagram accounts through working with over 100 influencers, so I am really happy about that, as this is a crucial element of the social media management for this particular client.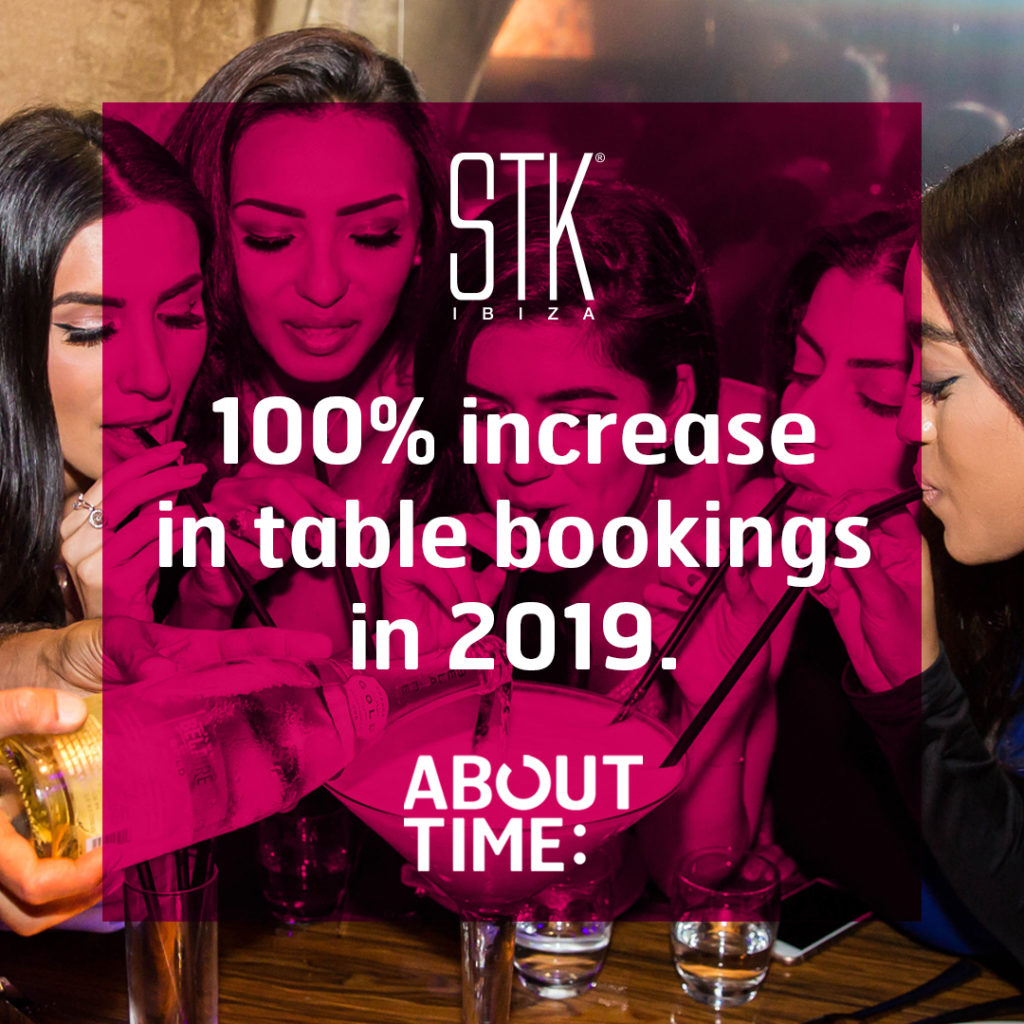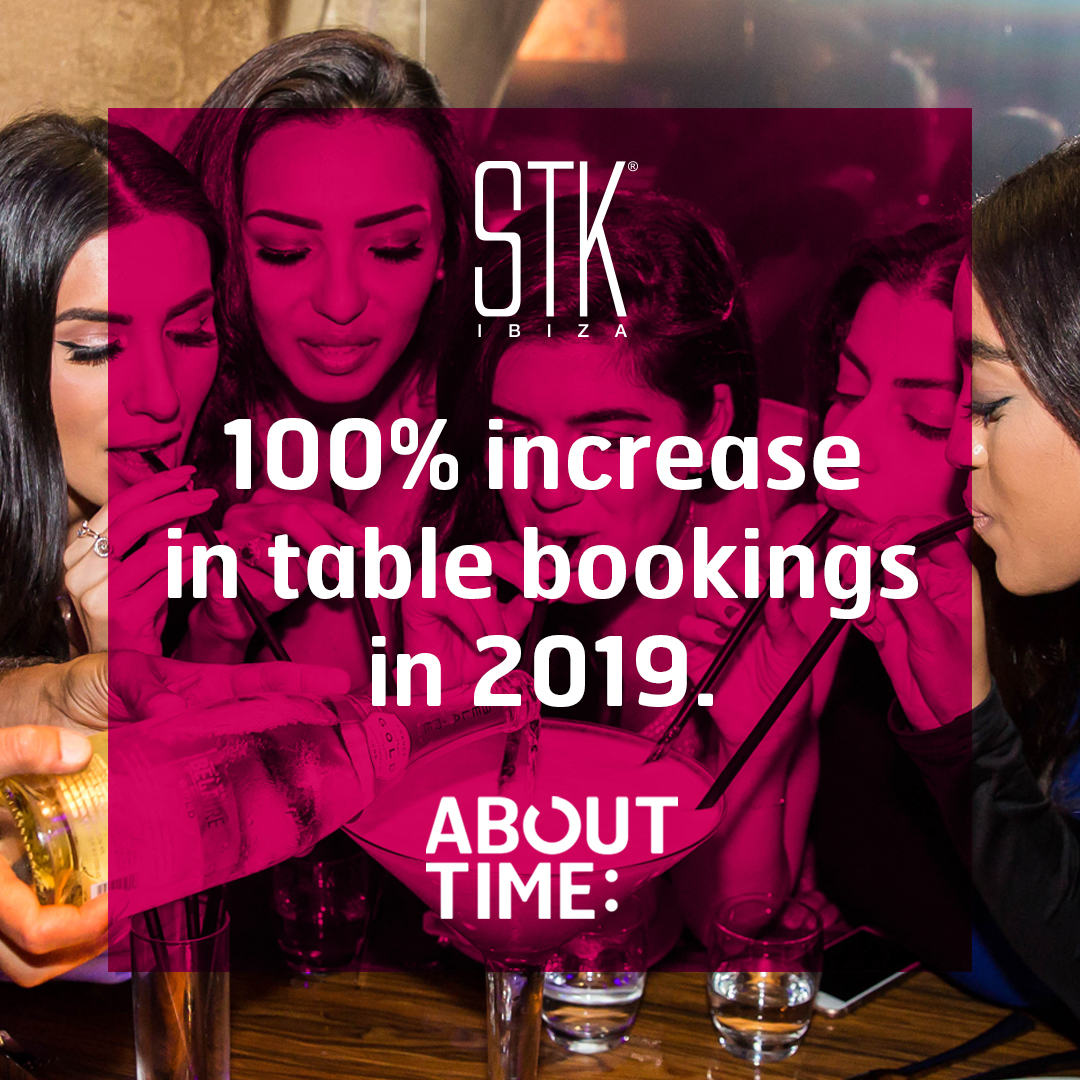 Why is working with influencers so important for this brand?
Influencers are extremely important for STK and in fact, across the whole group (ONE Group). Their primary target client base are young ladies who are interested in things like hair, make-up and going to the gym.  Working with influencers provides a great opportunity for us to reach our target clientele in a way that is relevant to them.
When I was younger, my girls and I read glossy magazines, we were inspired by celebrity culture.  Young ladies these days are not looking up to celebrities like they used to, they look up to social media personalities.  These influencers are much more relate-able to them than celebrities, the follower looks to them and thinks, 'that could be me'.
What's the recipe for success when working with influencers? How do you manage the relationship between the influencer and the business?
Planning and organisation is very important, we create influencer packages through partnering with other businesses too, maximising the influencer's visit to the island with coordinated itineraries.  I put clear agreements in place with influencers, making sure they know what's expected in return for their complementary experiences.
Good communication throughout the clients business is essential.  All members of the management team need to know that we're managing the influencer aspect and to make sure all requests come through me as the on site Digital Marketing Manager, which can be challenging when the management are influencers themselves and have their own networks of people.  But we have a budget to work from as far as influencer comping goes and we need to make sure we get back what we want from this budget in terms of the influencers deliverables and marketing results.
However, influencer management is also a very fast paced area and you need to be ready to respond to requests at all times.  I can get a call at 8pm from a group of 15 important influencers who want to come for something to eat in the next hour and if we don't respond quickly, we'll lose that opportunity to a competitor.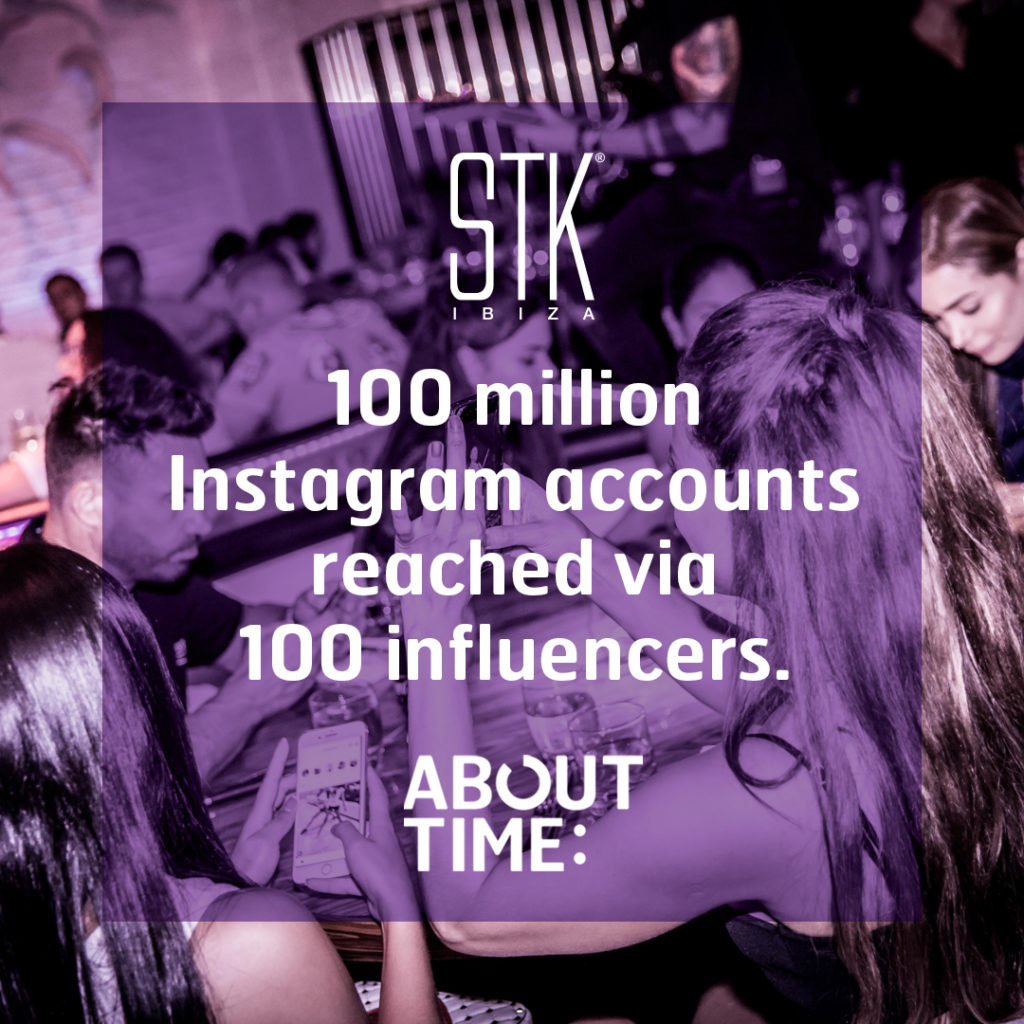 What makes a good influencer and what do you feel are the positives and negatives to this booming area of social media marketing?
I generally don't work with influencers who have a following of under 100K for STK and I check carefully to make sure they are genuine followers, not bought ones.  I give them all a unique tracking code so that we can see if they have driven bookings. When it's done right like this it's very measurable and effective.
Often what makes a good influencer depends on what channel they are using.  I find people with successful YouTube channels are usually really good to work with, they will often shoot their own content, which they share with us too and their following tends to be very engaged due to the quality of content being shared.
An influencer with a high rate of engagement is essential. A downside to the growth of influencer marketing is the amount of time it takes dealing with influencer requests that turn out to be a waste of time because the person doesn't have a genuine following or are incompatible with what we are looking for.

What role do Instagram stories play in the social media mix for STK?
For this client in this market, I'd say stories are the most important content now on social media, especially for Instagram.   The reality is that the STK target customer doesn't visit the profile page as much anymore.  They wake up, look at their phone in bed and let the stories roll, taking their information and inspiration from there.  Stories are one of the main deliverables we expect back from influencers, they must deliver at least 5 stories tagging STK Ibiza.
Our daily formula for stories includes starting off in the morning promoting events that are coming up that week or that month.  In the evening I have key members of the bar staff that I've trained to capture what's happening, making sure they always capture some of the food, drink, the crowd and the entertainment to be shared along with agreed hashtags etc. By following this formula we can be sure that anyone who comes onto an STK Ibiza story, gets a good feel for what the venue is about and what's coming up.  They can swipe up and book immediately from the story.
How important is videography these days in terms of getting social media engagement?
We regularly use videographers to capture professional footage of events and I feel videography is still hugely important to tell a story and show a journey.
However, with advances in phone cameras there's so much you can now do with a phone. User generated content on Instagram Stories is huge.  Using apps like Instagram Stories, with geotag functions, it is much easier to tell a story from the point of view of 20 customers instead of releasing one promotional video – making it more genuine, honest and authentic.

Is social media more important in Ibiza than in other holiday locations?
I think social media is so important for the whole travel industry. It is a way to reach your audience at home and immerse them in your world through their phone, long before they arrive.  
Ibiza in particular is seen a trend setting destination and people all over the world want a window into what's going on there in fashion and entertainment.  Social media is that window.
Ibiza is a competitive island in our sector and often visitors want to book everything in advance.  Strong social media content is essential to ensure that the client can see what you are really all about, what's on offer during the time they are there and to have confidence in choosing you.
Is there still a place for traditional media advertising and editorial in marketing a brand like STK?
Definitely, although of course the landscape has changed so much in recent years.  We work with some of the big glossy magazines like 'Cosmopolitan' and 'Glamour' who obviously have strong online magazines and social platforms these days too.  
Print features tend to work better for us in Winter when the restaurant is closed, talking about how great the last season was and getting people excited for the next one. Building and maintaining relations with journalists is an important part of what I do.  
I also love working with local media like Essential Ibiza and Ibiza Spotlight, I have a great relationship with them and they have given us some brilliant reviews and results.
What benefits do the About Time in-house creative team bring to the service we offer STK?
Our creative team have been amazing at taking the global branding guidelines for the STK group and giving them a twist that really works for Ibiza, I think this is an area where we are really able to help international brands that are moving to the island.  
Our team have designed everything, from big jobs like the seasonal menus to smaller pieces like Instagram stickers.  All together it means that the brand is being carried through consistently and cohesively across all communication.

For further information on STK or to book please visit www.stkibiza.com
Follow STK on: